Place Your Art Here is an exhibition created by Sedso Design Group as part of
of many First Friday Gallery Openings @ The Piazza this month.
Place Your Art Here

features more than 200 + entries from 57 artists with a variety of backgrounds. There were endless possibilities, but each entry had to follow a specific set of guidelines and fit within an existing template.
All entries are black & white only and placed within a 5 x 7 vertical format.
Entries include: graphic design, illustration, typography, collage, photography, screen printing, finger painting, and everything in between . . .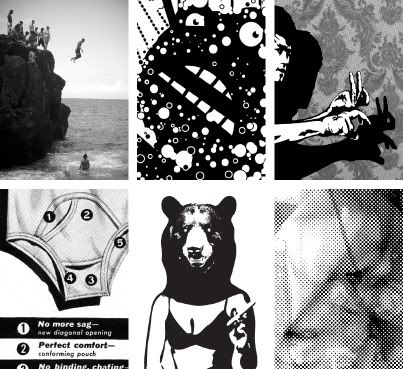 Submissions for the exhibition by:

Alicyn
Archuleta,
Mat
Arney,
Brooks
Bell
,
Andy
Benson, Blip, James
Comey,
David
Copestakes,
Kelly
Doyle,
Paul
Drzal,
Kyle
Ferino
,
Thomas Foley, Gregory
Ganski,
Jason Ganski,
Jason
Gates
, Joshua
Gittelman
, Joey
Gothelf,
Maria
Havranek,
Matt
Henneke,
Ben
Howard,
Kenny
Kim,
Daniel
Kress,
Emily
Ianacone,
Natasha
Laurenson,
Mallory Anita
Lawson,
Marcos
Lopez,
Chris
Macan,
Dannell
MacIlwraith,
Aaron
Massas,
Victoria
Masters,
Victoria
May,
Imri Jonas
Merritt
, Natalie Lara
Merritt,
Lisa
Meck,
Spenser
Michaels,
Rene
Michele,
Jeffrey Scott
Miller,
Jana
Nelson,
Joshua
Opdenaker,
Andrew
Papoutsis,
Casandra
Pedersen
, Rob
Quigley,
Lenard
Ranieri,
Marie
Rodriguez,
Kate
Rohrer,
Jose
Ruiz,
Bill
Sands,
Chris
Sembrot
, Dan
Simon
, Minder
Singh,
Adam
Sivel,
John Kane Smith, Matt
Sullivan,
Alaa
Taher,
Mike
Valentine,
Luke
Weidner,
Jonathan
Wilde,
Bethany
Willis
Friday, November 6th, 2009
– 8pm - 11pm
Prints will be on sale: 2 for $5, 5 for $10
Location:
Sedso Design Group Gallery - Space 75 at The Piazza
1050 North Hancock Street, Philadelphia, Pa 19146